Our chair covers will turn those plain old chairs into an elegant affair. Classy and yet economical, our chair covers are exactly what you're looking for! With our special pricings, now's the perfect time to buy!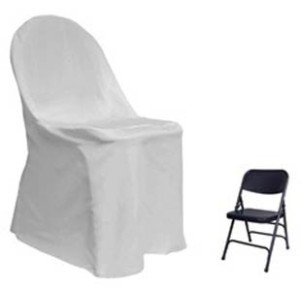 Each Measures (approximately):
Height (from top to bottom): 34″
Back of chair: 21″ width x 18″ height
Seat of chair: 19″ width x 16″ length
Leg of chair: 18″ height from ground
Polyester Material
Chair and sashes are rented separately
Chair style differences (banquet vs. folding): First, examine the chair you need covers for to determine which style it is. Since designed to be foldable, folding chairs have a slanted back, while banquet chairs have a straightened back. After determining what style you need, then review the measurements stated of chair cover to determine if it will work.